Trash / Recycling Collection
The City of Harrisburg is excited for the opportunity to be your trash and recycling provider! Harrisburg's Public Works Department will begin collecting your trash and recycling on Wednesday, January 6, 2021. Trash pickup will occur during the normal hours of operation from 7:00 a.m. through 6:00 p.m. Please continue to place your trash and recycling containers at your regular designated location. For all inquiries and questions, the City of Harrisburg has established a special phone number and email for Penbrook Borough residents. We can be reached Monday-Friday from 7:00 a.m. – 3:30 p.m. at 717-695-9716 or at penbrooktrash@harrisburgpa.gov.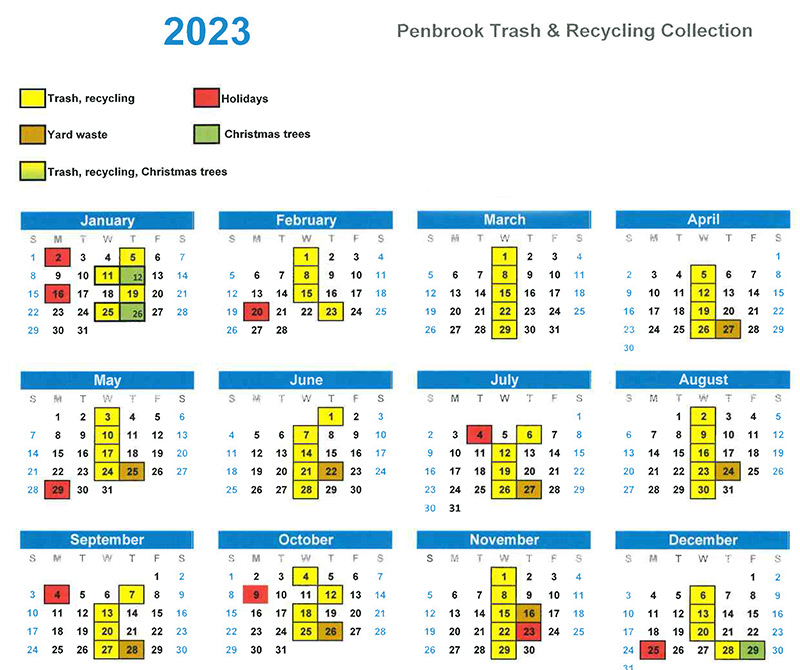 Service Day:
Your trash, recycling and 1 bulk item will be collected every Wednesday
Yard waste is collected on the last Thursday of each month from April through November. A brown container is provided to use for this pickup. Grass clippings are NOT to be put in the tan Yard Waste container. Put any grass clippings in with your regular trash container.
Trash Holiday Schedule:
New Year's Day, Memorial Day, Independence Day (July 4th), Labor Day, Thanksgiving Day, Christmas Day
Reminder: when a holiday falls on a Monday, Tuesday or Wednesday, your collection will be delayed one day to Thursday.
Trash Information:
For trash, you are allowed to fill your trash toter and place one (1) additional bag on top of the trash toter.
Each household is permitted to set out one bulk item on Wednesday, the same day as the trash and recycling collection. Acceptable bulk items include the following: furniture, mattress & box spring, carpet (rolled and tied—maximum length 48"), washers, dryers, dishwashers, or other household item too large for regular weekly collection. If you are in doubt about an item for bulk collection, please call Harrisburg City at 717-695-9716 for clarification.
Bulk items requiring special handling must be called in to Harrisburg City at 717-695-9716 for collection prior to the regular pickup day. These items include: refrigerators, freezers, other appliances containing Freon or other refrigerant.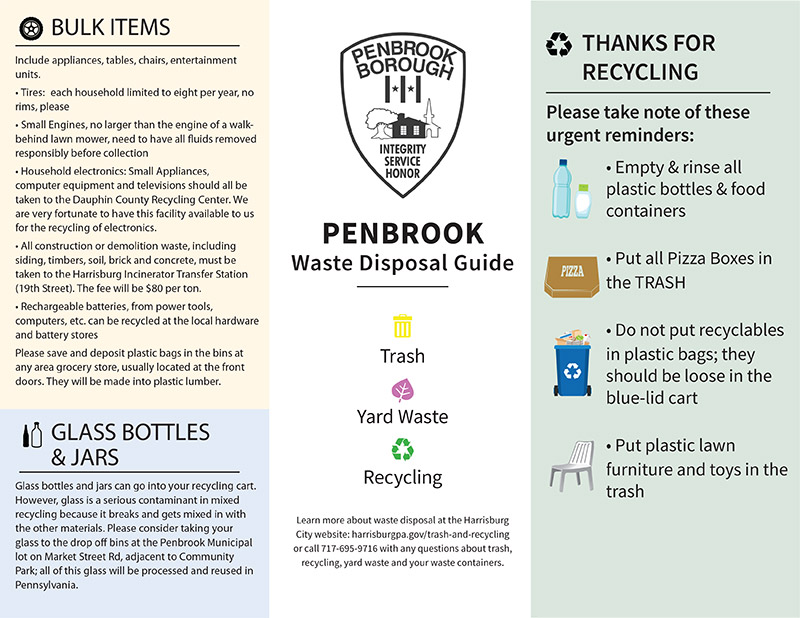 Recycling Information:
You are reminded that Pennsylvania passed the Covered Devices Recycling Act which regulates disposal of certain electronics. Residents and businesses may no longer place these items at the curb as trash: televisions, desktop computers, laptops, monitors, computer accessories (keyboards, mouse, printers, speakers). They must be taken to our County's recycling center at 1625 S Cameron St, Harrisburg, PA